Description
Edit
A map that shows the location of a treasure. The treasures location is marked by a green square in the middle of the map. Parts of the map are obscured by black pixels making it more difficult to recognize the area. A higher skill in cartography will reduce the number of obscured pixels.
The tattered map must be decoded to be viewed. Decoding the map takes a durability point from the map. If the map is closed, it must be decoded again to be viewed. When the map is decoded a notification in the chat box will give an indication of the players distance from the treasure.
Closing the map and decoding it again, or simply decoding it again while the map is still open, will redistribute the pattern of obscured pixels.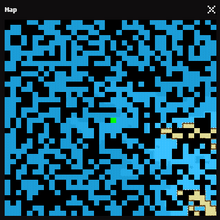 Tattered maps are found in glass bottles floating in the sea or washed ashore on a beach, in chests, or occasionally dropped by certain types of monsters.